Teaching methods in a master's class is different from lecturing on theory.  There's more emphasis on how, with why subsequently provided as the need for that arises.  Since I had given a dense 20-minute theoretical talk in the month earlier, the invitation from Satu Teerikangas to the program in International Service Business Management was an opportunity to stretch out at a more leisurely pace with students, as they're preparing for thesis work.
The 3 hours class was conducted in parts:
(A) Introductory lecturing for 85 minutes on …

1. Architecting versus designing
2. Alexandrian example → services

(B) Faciliated learning, for 55 minutes, with an …

3. Exercise:  trying out pattern language

(C) Contextual lecturing for 23 minutes, on …

4. Systems thinking + service systems
5. Ignorance and errors
The classroom interaction was recorded in audio, and is complemented by slides that had been posted on the Coevolving Commons.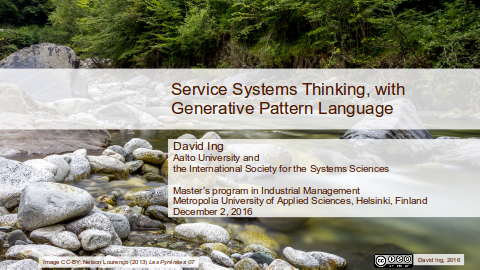 For people who prefer the real-time experience of being in a classroom, video and audio are provided, below. Read more... (1399 words, 1 image, estimated 5:36 mins reading time)
daviding January 13th, 2017
Posted In: pattern language, services, systems
Tags: pattern language, service systems