Dear Microsoft: After a 4-year separation with Windows 7, the constructive divorce that you've set for Windows 10 on July 29, 2016 will come into force.  I've just spent 30 hours trying to make things work.  I know that Lenovo says that the Windows 10 upgrade should work, but we're spending so little time together that I don't have energy to keep fighting.
We never really got married.  There was a time that I was spending up to 12 hours per day with you.  Our relationship has a long history:
Over the past few days, the messages you've been giving me have been more than frustrating.
On the Thinkpad X200, you told me "We couldn't install Windows 10",  and "0xC1900101 – 0x20017 The installation failed in the SAFE_OS phase with an error during BOOT operation" five times over 24 hours.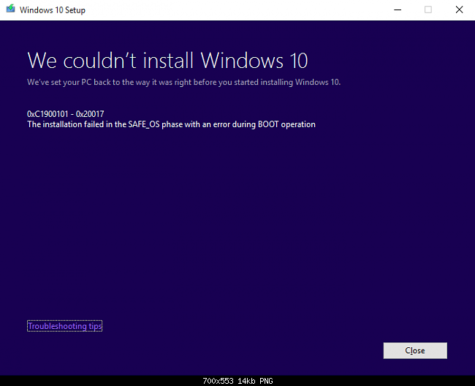 The BIOS is up to date and antivirus was removed.  I tried with both the automated installation and Media Creation Tool on USB, both with and without the online updates.  There were also long "Checking for update" delays, where I had to intervene.
Maybe upgrading on older Core 2 Duo Penryn computer isn't worthwhile.  I then turned my newer computer, a Core i7 Ivy Bridge.
Trying on the Thinkpad X230 Tablet, you told me "Something happened".  "Sorry, we have having trouble determining if your PC can run Windows 10".  This computer is on the "Lenovo supported systems list for Windows 10 Upgrade", so is the trouble my fault or your fault?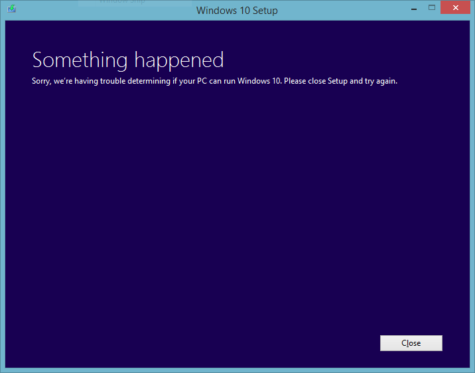 You led me to the Windows Update Troubleshooter, which found that the "Service Registration is missing or corrupt".  The automated install didn't fix everything, so I spent 15 minutes copying-and-pasting commands manually into a terminal window.  Thanks, that fixed the Service Registration problem. However the "Something happened" message is unchanged.
I'm not new to intense relationships.  I have to admit to not being fully committed to Microsoft for some decades. Read more... (1206 words, 2 images, estimated 4:49 mins reading time)
1. Courtship (1992-1996)
daviding June 26th, 2016
Posted In: technologies
Tags: microsoft, thinkpad, upgrade, windows, windows 10, windows 7, x200, x230
The average Canadian worker has (at least) some college or university education.  This fact is counter to presumptions in a question on the first day at the World Economic Forum by Fareed Zacharia, in an interview with Canadian Prime Minister Pierre Trudeau.  Zacharia asked:
What do you say to the average worker in Canada, who may not have a fancy college degree — and I'm thinking about the average worker in America or in Europe, as well — who looks out at this world and says "I don't see what globalization is doing for me.  The jobs are going to South Korea and China and Vietnam and India.  Technology is great, but I can't afford the new iPad Pro, and more importantly, this technology means that it increasinly makes me less valuable.  Why shouldn't I be angry and involved the politics of progress?"
The response by Trudeau spoke to the Fourth Industrial Revolution, the theme of the Davos conference.  He didn't actually respond to the presumption on education.
In a national picture of educational attainment:
In 2012, about 53.6% of Canadians aged 15 and over had trade certificates, college diplomas and university degrees. This was an increase of 20.9 percentage points since 1990.
… says "The Indicators of Well-Being in Canada (2016)", by Employment and Social Development Canada.
In the Economic Indicators for Canada,
Between 1999 and 2009, the proportion of adults aged 25 to 64 with tertiary education in Canada increased from 39% to 50%. In 2009, Canada had the highest proportion of the adult population with tertiary education among all reporting member countries of the OECD. By comparison, the 2009 OECD average was 30%.
… says Statistics Canada in "Educational Attainment and Employment: Canada in an International Context (February 2012)".
If there's going to be another industrial revolution, an educated population should be better positioned for it.  What's the fourth industrial revolution?  The World Economic Forum describes "The Fourth Industrial Revolution: what it means, how to respond": Read more... (958 words, 2 images, estimated 3:50 mins reading time)
daviding January 20th, 2016
Posted In: economics, education, systems, technologies
Tags: fourth industrial revolution, tertiary education, world economic forum
Systems Thinking World — a LinkedIn group with dialogue from over 19,000 members — ceased to exist by October 28, 2015.  It was a place where learners (new and old) of systems thinking came to overcome barriers, from 2009 through 2015.  A change in the terms and conditions at LinkedIn led to the group owner to move on.  The scale of worldwide participation in Systems Thinking World was significant, and the journey was the subject of a presentation at ISSS DC 2014.
While cleaning house, the Facebook Group formerly known as Systems Thinking World came into the hands of a new owner, and was retitled (at least temporarily) as The Ecology of Systems Thinking.  The new owner has a more open approach, and has authorized additional members to be administrators (including me).  The group had changed temporarily to be closed (i.e. content visible only to members), and Facebook won't allow groups with more than 250 members to revert from closed to open.
Is there an alternative to the centralized structure of (a) forum owner(s) and members?
Actually, there is.  The diaspora* foundation has a different approach:
diaspora* is based on three key philosophies:

Decentralization: Instead of everyone's data being contained on huge central servers owned by a large organization, local servers ("pods") can be set up anywhere in the world.

Freedom:   You can be whoever you want to be in diaspora*.  [….]  diaspora* is also Free Software, giving you liberty to use it as you wish.

Privacy:  In diaspora* you own your data. You do not sign over any rights to a corporation or other interest who could use it.
The history of the diaspora* social network platform goes back to 2010, with a Kickstarter project.  Since 2012, it has been an open source community project.  The project blog shows a continuing stream of releases, so the technical community appears to be viable.
I have had a profile at https://diasp.org/u/daviding since 2011, but haven't had a reason to exercise the platform.  Maybe the demise of Systems Thinking World is a sign that it's time for a big change.  I've started Systems Sciences groups on Google Plus, Facebook and LinkedIn.  I've been experimenting with federated wiki.  Although others may have become comfortable with ease of a corporation managing their content, I've always been an advocate for self-sufficiency.  So, in a learning-by-doing mode:
I, David Ing, pledge to post on diaspora* with the #systemsthinking tag, if at least 5 people join me.  I will post with public visibility, and others may choose to post publicly or privately.
Join me!  Signing up to diaspora* is easy.  The first decision is choosing a pod.  If you want to follow my example, you could sign up at disasp.org.  (The disasp.org server is physically in New York.  If you normally converse in language other than English, you could pick a pod geographically closer that encourages dialogues in your native dialect).  It would be nice if you reciprocated with a real identity, and posted a photo.  You can even link your profile from Facebook, so you don't have to fill in all of the fields. Read more... (601 words, 1 image, estimated 2:24 mins reading time)
daviding October 30th, 2015
Posted In: systems, technologies
Tags: diaspora, systems thinking world
Evolving the Proposal to Collaborate on a Pattern Language for Service Systems from January, the initiative has now taken on a label of Service Systems Thinking.  The presentation at the 58th Annual Meeting of the International Society for the Systems Sciences in Washington DC was recorded, so that interested parties have the option of watching or listening ideas that have developed over the past six months, and reading the slides at their leisure.  Here's the abstract:
"Service systems thinking" is proffered as a label for an emerging body of work that: (i) builds on social systems thinking (i.e. socio-psychological, socio-technical and socio-ecological systems perspectives) to advance a transdisciplinary appreciation of service systems science, management, engineering and design; (ii) explores opportunities to enrich Alexanderian patterns and categorized pattern catalogs into a generative pattern language; and (iii) collaborates on new platforms, moving from inductive-consensual wiki pages to a multiple-perspectives (federated) wiki.
The session was conducted in two parts, each of about 90 minutes.  The first part had a soft start playing some videos on the Smallest Federated Wiki by Ward Cunningham, since participants were coming back from lunch in another building.  The presentation alternated between projected slides, and live content on the federated wiki at http://fed.coevolving.com/view/welcome-visitors/view/service-systems-thinking.  The agenda covered:
1. Service Systems Thinking, In Brief

1.1 An intentional representation
1.2 An object-process representation

2. Conversations for Orientation

2.1 Systems thinking
2.2 SSMED (Service Science, Management, Engineering and Design
2.3 Generative Pattern Language
2.4 Multiple Perspectives Open Collaboration
In the second part after the break, the agenda covered: Read more... (466 words, 1 image, estimated 1:52 mins reading time)
3. Conversations for Possibilties

3.1 [Multiple Perspectives Open Collaboration]: We could have federated authored content on open source platforms
3.2 [Generative Pattern Language]: We could be reoriented for unfolding wholeness, layering systems of centers and/with creating interactive value
3.3 [SSMED]: We could have trans-disciplinary cooperation on service systems improvement
3.4 [Systems thinking]: We could have service systems evolving from the systems thinking tradition
daviding August 26th, 2014
Posted In: design, services, systems, technologies
Tags: collaboration, federated wiki, pattern language, service systems, service systems thinking, systems-thinking, video
Have you ever been asked to fill in a PDF form given not as editable electronically?  The frustrated respondent may print out the form, fill in the fields — either by hand, or with a typewriter (!) — and then transmit the result as a fax. A more persistent respondent looks for a free program that enables annotating the form and preserving an end-to-end electronic format.
One way is to "Open and edit PDF files in OpenOffice".  This way invokes the Draw program — not the Writer word processor in OpenOffice (or LibreOffice).  The PDF Import extension converts the field labels as well as entry fields.  The import tries to match up the field label fonts, but there may be some shifting.
Another way uses Jarnal — the Java Notetaker and PDF Annotator.  This feature was demonstrated in a Jarnal demonstration video, some time after the basic pen-based sketching features.
Jarnal is a cross-platform application written in Java, that runs on Linux, Windows and Mac.
I subsequently discovered that Xournal offers similar features and is simpler to install as an Ubuntu app.
Xournal is also written in Java, and thus also installable on Linux, Windows and Mac. Read more... (330 words, 2 images, estimated 1:19 mins reading time)
daviding January 19th, 2014
Posted In: technologies
Tags: annotation, form, jarnal, pdf, xournal
Through dubious television coverage on GitHub, some publicity on technology-supported collaboration have surfaced.  Business Insider reported:
Fox Business tried to use a bunch of coder lingo in a report on social coding startup GitHub — and failed.  [….]

The coders and developers over on Hacker News have been dissecting the video all day.
While there is technology involved, the challenge is better described as a change in style on collaboration around artifacts.  In an interview at Disrupt SF 2013, Tom Preston-Werner, co-founder of Github, said:
It's looking more about what's possible in the world of collaboration. It's more about people's behaviour. It's more about what they're doing.

If people are using e-mail a lot, to share documents back and forth, this is a huge problem. The work that people do needs to be next to the communication they do. This is our vision for the future. And this is why Github puts communication mechanisms, pull requests, like having discussions around work changes, and being able to document them, put them next to the files that people are working on. Most often it's code, but put those things together.

The challenge, the real competitor is behavioral. It's the technologies in general that we're using, and e-mail primarily. It's getting people away from the mentaliity that everything can be accomplished via e-mail, and that's the best solution. That is not the best solution, for most problems. It closes things down.

Tom Preston-Werner | On Breaking Down Walls | Sept. 11, 2013 | Disrupt SF 2013
This web video led to presentation of an opportunity, and criticism, by Lauren Orsini.  GitHub is focused primarily on software development, although it the technology could be advantageous in broader contexts.
Here's a secret: GitHub isn't just for writing code. Too bad GitHub doesn't seem to care.

If you're not a developer and you've heard of GitHub at all, you probably only know it as an online space where developers work together on coding projects—one that's only useful to the geekiest sector of the population.

But GitHub is actually an incredibly useful tool that could be used to organize any group project online. And the day that "regular" people begin adopting it is closer than you think.

On Wednesday, GitHub CEO Tom Preston-Werner said normals are welcome to join the party. "We want to make [non-development] use cases possible," he said at the TechCrunch Disrupt 2013 conference. "Now, we still optimize GitHub for software developers. This is something that's very important to us. Software is the future of the world."

With a lackluster welcome like that, you could be forgiven for not rushing to sign up for an account right this instant. From a technical standpoint, though, GitHub isn't at all specific to code projects. It's open to anyone. If only GitHub made more of an effort to make those others feel more welcome.
I had previously looked at GitHub when I noticed that Ward Cunningham (the original inventor of the wiki) has been hosting the Federated Wiki project on Github. I played around with it enough to get a basic appreciation of the technology. Other non-technical people might appreciate a bit of a primer.
1. What is Git, and GitHub?
2. What is the promise of Github, in changing the way workers collaborate?
3. Are there alternative to the Github technology?
While Github is the most advanced way for developers to track changes in code, features of real-time collaboration for non-technical professionals first emerging in Google Wave (now Apache Wave) have shown up in Google Docs and IBM Docs. Read more... (3226 words, 2 images, estimated 12:54 mins reading time)
1. What is Git, and GitHub?
daviding September 15th, 2013
Posted In: systems, technologies