As an alternative to relying on Flickr as my photo-sharing site, a migration to self-hosting Piwigo took less than 2 hours.  With the web-sharing functions of Flickr having remained stable for the past few years, I've discovered that Piwigo has all of the features that I need for Creative Commons sharing of my one-photo-per-day habit.
For some years, my larger private photo archives have been on self-hosted Zenphoto sites.  In 2013, the quality improvement on my smartphone cameras led me to change my practice of large-batch photographic essays, in favour of sharing more frequent (i.e. daily) images.  I had admired Flickr for their progressive licensing whereby community members could easily declare Creative Commons.  Further, even at the level of free accounts up to 1TB, their FAQ said (as memorialized from August 2013 on the Internet Archive):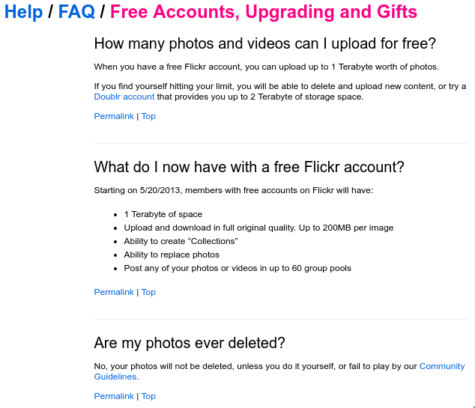 Are my photos ever deleted?

Not, your photos will not be deleted, unless you do it yourself, or fail to play by our Community Guidelines.
If I started with the a free account on Flickr, and reached the limit where a Pro Account was needed, I wouldn't begrudge paying for the service.  My understanding was that if I stepped back down to an free account, not all photos would be directly accessible, but the images wouldn't be deleted (as described in "Your photos and data on Flickr" | Zach Sheppard | May 26, 2011: Read more... (868 words, 5 images, estimated 3:28 mins reading time)
daviding November 4th, 2018
Posted In: blogging, web tools
Tags: flickr, open source, piwigo
In my dissertation for Aalto University, I've chosen the label of "private source" in opposition for the label "open source".  This dissertation has been under development for some years.  In November 2012, the annual Arctic Workshop — a meeting of graduate students and supervisors of the Finnish Doctoral Program in Industrial Engineering and Management — was scheduled to bring together participants from across Finland.  With a theme for 2012 of "Innovation and Sourcing", and an opportune opening on my calendar, I went to Finland to participate.
As a graduate student, I prepared an article and presentation slides for the event.  The abstract sent in advance said:
This research paper is an excerpt from a forthcoming dissertation titled "Open source with private source: coevolving architectures, styles and subworlds in business". The content has been extracted from the first and second chapters, particularly on foundational definitions. It has being contributed to the Arctic Workshop 2012 as a research paper as part of a thesis under development.

This thesis, as a complete work, inquires into the question: How do open source and private source coexist and coevolve as patterns of behaviour in business? The research approach chosen is inductive, from nine cases in which both open source and private source have been in play. Theories built in the fully-developed thesis are placed into pluralistic contexts, as an inductive approach to multiparadigm inquiry.

Coincident with the theme of "Innovation and Sourcing" for the Arctic Workshop 2012, this research paper aims to explain the terms "open source" and "private source", mostly as distinct patterns as phenomena in contemporary business. The larger agenda of research into open source with private source has been largely precluded due to length.
While most people think that "open source" is about software, it's about much more than that.  In addition, the label of "private source" has been carefully chosen with a deeper meaning, in contrast to labels of "closed source" or "proprietary".
Since I'm about halfway through writing the first manuscript of the dissertation, I expect that these excerpts from the first and second chapter will eventually be revised.  The prescribed page limit (of 15 pages) was enough to introduce open source and private source, but not open source with private source.  A dissertation of 100 pages is normal.  I expect that my dissertation will much long than that.  Perhaps the average reader may be satisfied with this shorter excerpt.
[See the presentation and article on "Open source, private source: foundations" on the Coevolving Commons] Read more... (413 words, estimated 1:39 mins reading time)
daviding January 24th, 2013
Posted In: innovation, systems
Tags: open source, private source