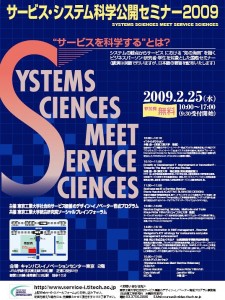 The Service Innovation Educational Program at the Tokyo Institute of Technology hosted an "Open Seminar on Service Systems Science" (with a flyer in PDF) — as well as a private "Invited Workshop on Services Science, Management and Engineering" — in February 2009.
I've just noticed that much of the content is totally opaque to people who don't read Japanese, so I've posted my (English-language) digest of the meetings on the Coevolving Innovation Commons.  The text is incomplete, but it at least provides a minimal sketch of some of the ideas discussed. (Digital photographs help, too!).  Speakers include:
The 2009 meetings were an annual extension of the 2008 21st Century CoE Symposium, and the first Invited Workshop on SSME.
With many of the researchers coming from a perspective of systems science, the trend has been to work out some of the ideas on an emerging science of service systems.