A guest lecture on systems thinking for the Creativity Sustainability program at Aalto University provided an opportunity to stretch out on the plenary presentation that I had given at ISSS 2012.  In San Jose last July, plenary speakers (including myself) were constrained to 45 minute slots preceding dialectic panelists.  In Helsinki in November, the luxury of time allowed me to explain the ideas more fully.  The lecture took 85 minutes, and was then followed by a question and answer session.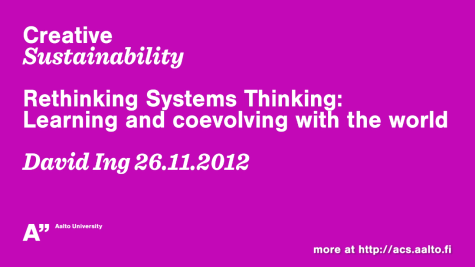 Versions of the web video can be viewed on Youtube, or viewed or downloaded at http://media.isss.org , at 480x272p, 720x400p, and 1280x720p.  The video shoot and post-production editing of the lecture was done by Seungho Lee, on behalf of the Creative Sustainability program.
The presentation on "Rethinking Systems Thinking" is probably the most comprehensive talk that I've given (and may ever give).  It is a personal perspective on systems, gained since the attending my first ISSS meeting in 1998 — that's 14 years with the society.  My focus has recently shifted from the international audience to the local audience around Toronto, with Systems Thinking Ontario.  Systems thinking can be doled out in smaller chunks.  Over the Internet, viewers may choose to use the pause button.