Fit the people around an organization; or an organization around the people? Working backwards, say @MitroffCrisis + #HaroldLinstone, from current concrete choices to uncertain futures, surfaces strategic assumptions in a collective decision, better than starting with an abstract scorecard to rank candidates. The Unbounded Mind is an easier-reading follow-on to The Design of Inquiry Systems by C. West Churchman.
This scorecard metaphor shows up in the second of five ways of knowing (i.e. inquiring systems)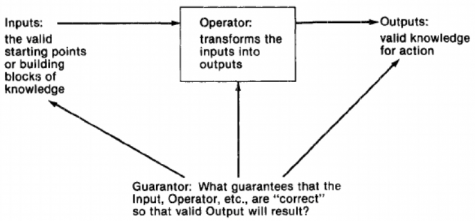 Chapter 3 is "The World as a Formula: The Second Way of Knowing". A case study commonly used in business school education is described.
To illustrate the use and meaning of the Analytic-Deductive IS in a social realm, we'll apply it to a situation that on the surface at least is as "simple" as the question that occupied us in the last chapter. There is a somewhat dated yet classic case in the Harvard Business Review that provides a perfect depiction of the Analytic-Deductive IS. [5] Four men are running for the presidency of a fictitious life insurance company, Zenith Life. Background information on their strengths and weaknesses, families, career history, skills, and so on, is given for all four, although we do not receive the same information for each of them. Thus, we know more about one candidate in one category than we do about another. Also, the history and current nature of Zenith Life itself, its prospects and problems, its opportunities as well as threats, are described. The central question of the case is, "Which of the four candidates is best qualified to head Zenith Life, given both its past history and its current condition?"  [pp. 41-42]
[5] Abraham T. Collier, "Decision at Zenith Life," Harvard Business Review, January-February 1962, Vol. 40, No. 1, pp. 139-157
In all the years that we have given this seemingly "simple case" to scores of students and executives, the typical response has remained remarkably the same. Almost every student and executive — whether they worked individually on the case or in small groups — built a single, simple model that selects one and only one of the candidates as best for Zenith Life. The models are virtually the embodiment of Analytic-Deductive reasoning whether the students and executives were aware of this or not; in most cases, they were not.

The models essentially work as follows. A set of attributes that are characteristic of leadership is determined or specified: for instance, how charismatic each of the candidates is; their capacity to inspire others; the ability to formulate a vision of what Zenith Life needs to be in the coming decade; to present one's ideas in a direct and persuasive manner so that others will want to join on; a clear sense of ethics and the ability to make decisions that are ethical and moral; their past job performance — job history, personality, and so on. Other variables such as"family support" were also included. Each candidate is then scaled on each attribute to the degree that the individual either embodies or possesses it. Typically, a score of "1" represents the absence of a particular attribute or poor performance on it, whereas "10" indicates the complete possession of an attribute or high performance. On more sophisticated models, the attributes are weighted differently so that, for example, the category "ethics" might be rated three times more important than one's score in the area of "past job performance." The "best candidate" to run Zenith Life is then selected on the basis of who has the highest score on all the attributes and their weightings.  [p. 42]
So, the scorecard would look something like this: Read more... (2062 words, 1 image, estimated 8:15 mins reading time)