As an alternative to relying on Flickr as my photo-sharing site, a migration to self-hosting Piwigo took less than 2 hours.  With the web-sharing functions of Flickr having remained stable for the past few years, I've discovered that Piwigo has all of the features that I need for Creative Commons sharing of my one-photo-per-day habit.
For some years, my larger private photo archives have been on self-hosted Zenphoto sites.  In 2013, the quality improvement on my smartphone cameras led me to change my practice of large-batch photographic essays, in favour of sharing more frequent (i.e. daily) images.  I had admired Flickr for their progressive licensing whereby community members could easily declare Creative Commons.  Further, even at the level of free accounts up to 1TB, their FAQ said (as memorialized from August 2013 on the Internet Archive):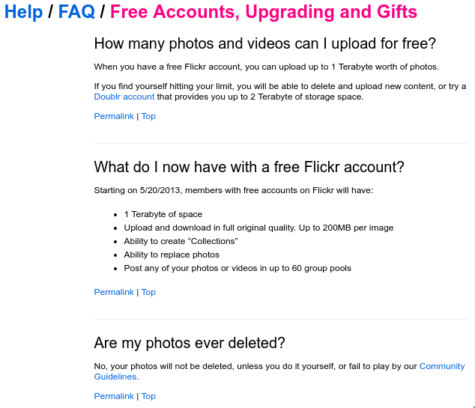 Are my photos ever deleted?

Not, your photos will not be deleted, unless you do it yourself, or fail to play by our Community Guidelines.
If I started with the a free account on Flickr, and reached the limit where a Pro Account was needed, I wouldn't begrudge paying for the service.  My understanding was that if I stepped back down to an free account, not all photos would be directly accessible, but the images wouldn't be deleted (as described in "Your photos and data on Flickr" | Zach Sheppard | May 26, 2011: Read more... (868 words, 5 images, estimated 3:28 mins reading time)