Having coached consultants on writing articles, it's clear to me authorship has foundations both in art and in science. A thesaurus is a familiar aid to writers. Visual Thesaurus has been the leader in displaying words interactively through a graphical user interface since 1998. Now, there's a new alternative on the web: VisuWords. The snapshots below don't do full justice to the animation featured in both.
Visual Thesaurus provides a simpler interface, of nodes joined by lines.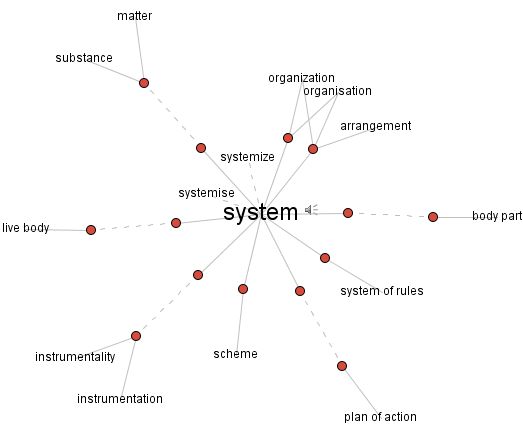 VisuWords presents a busier interface, and the lines joining nodes have different meanings. In the upper right section of a search on "system" appears the "is a word for" relations.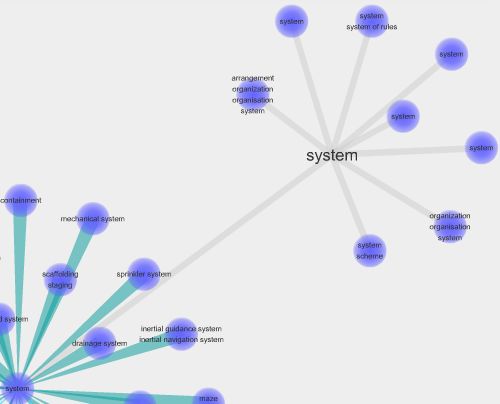 In the lower left of the same search appears the "is a kind of" relations.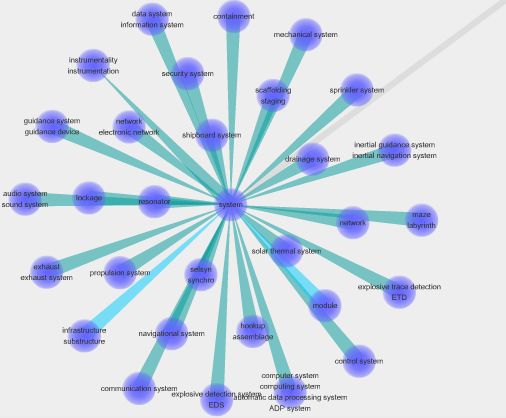 The semantics associated with VisuWords is richer. The legend uses colors and varying markers to differentiate relations.

Each of these offerings reflect the time period in which they were developed.
Visual Thesaurus (circa 1998) has versions that run on a computer desktop (i.e. PC or Mac), or on a web browser. The program is written in Java, so it's relatively simpler to port across platforms. When version 1 was on the web, searching words was free. Now that they're up to version 3, only a few free searches are allowed on the web site.
VisuWords (circa 2007) runs only on a browser. It's constructed on Adobe's Flash platform, which means that it probably will never be packaged as a standalone desktop application. The long-term licensing of the software isn't clear, but for now, Paul R. Dunn writes that "Visuwords™ is available as a free resource to all patrons of the web".
Visual Thesaurus uses Wordnet from the Cognitive Science Laboratory at Princeton University, as does VisuWords. The licensing of Wordnet is unencumbered both for non-commercial and commercial use, so the varying styles between the two offerings is an interesting contrast in styles.
In either case, there's appeal for a fun interface to help a writer express himself or herself to find the right word or phrase. For those who think such a tool is too distracting, some believe that a hardcopy thesaurus is still better.