As an alternative to relying on Flickr as my photo-sharing site, a migration to self-hosting Piwigo took less than 2 hours.  With the web-sharing functions of Flickr having remained stable for the past few years, I've discovered that Piwigo has all of the features that I need for Creative Commons sharing of my one-photo-per-day habit.
For some years, my larger private photo archives have been on self-hosted Zenphoto sites.  In 2013, the quality improvement on my smartphone cameras led me to change my practice of large-batch photographic essays, in favour of sharing more frequent (i.e. daily) images.  I had admired Flickr for their progressive licensing whereby community members could easily declare Creative Commons.  Further, even at the level of free accounts up to 1TB, their FAQ said (as memorialized from August 2013 on the Internet Archive):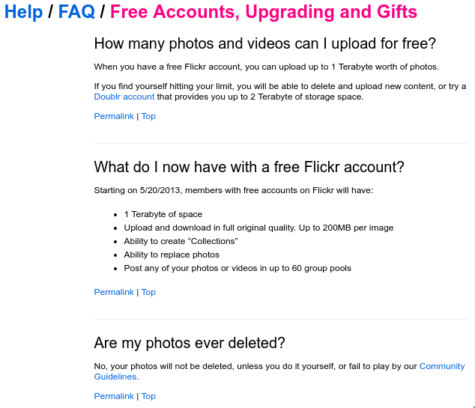 Are my photos ever deleted?

Not, your photos will not be deleted, unless you do it yourself, or fail to play by our Community Guidelines.
If I started with the a free account on Flickr, and reached the limit where a Pro Account was needed, I wouldn't begrudge paying for the service.  My understanding was that if I stepped back down to an free account, not all photos would be directly accessible, but the images wouldn't be deleted (as described in "Your photos and data on Flickr" | Zach Sheppard | May 26, 2011:
* If your Pro account expires nothing is deleted: If your Pro account expires or you forget to renew, don't worry! Your photos and videos are not deleted from our servers. We continue to store your images until you decide to delete them and everything will be waiting for you if you decide to upgrade again.
At the acquisition of Flickr by SmugMug, there was some expectation that previous expectations would continue to be met (as declared in April 2018).
Will anything happen to my photos? Will they be moved?

No, you'll still be able to access your photos as you do currently and they'll retain the same Flickr or SmugMug URL as always. Over time, we'll be migrating Flickr onto SmugMug's technology infrastructure, and your Flickr photos will move as a part of this migration—but the photos themselves will remain on Flickr.

Will Flickr continue to offer a free version? Will Flickr's price change?

Absolutely. Flickr's free accounts are foundational to its community of influential and engaged photographers. We are not making any changes to Flickr plans or rates at this time. We'll let Flickr Pro customers know if that changes.
The announcement by Flickr that "Beginning January 8, 2019, Free accounts will be limited to 1,000 photos and videos" on November 1 changed the terms to be based not on disk space, but on the count of images.  My parsimonious digital file sizes (i.e. not 20MB in size but instead 12MB, not Superfine quality but instead Fine) would not be rewarded.
Since I already administer my own WordPress and Drupal web sites, installing an open source alternative to Flickr can be straightforward.  After doing some research, I found (i) an active Piwigo repository on Github, (ii) a commercial provider at piwigo.com for those who don't self-host, and (iii) a soon-to-be-released Piwigo Native Android App.  Using Softaculous, Piwigo is an installation as a one-button press, completed within a minute.
After setting up the obligatory userids and passwords, I was able to easily look into "Other plugins available" for more one-button installs of plugins.
The instructions to "Import from Flickr to Piwigo" | Pierrick Le Gall | May 21, 2013 were clear and easy to follow.  I had 1877 photographs on Flickr.  Running Flickr2Piwigo started a long series of "Success" messages.  I left the computer, and came back 30-40 minutes later.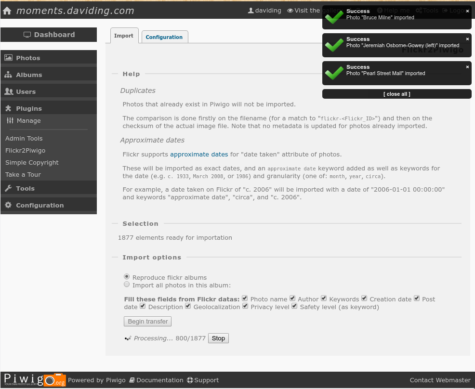 The screen was stalled on the "Processing" page, with 3 elements left to import, and 3 ugly error messages.  I stopped the processing, reloaded the page, and restarted Flickr2Piwigo.  The already-transferred images were rapidly skipped over, and the error messages repeated.  After one more try, I decided that I wouldn't quibble with the few errors.  (I have archives of all my photographs, elsewhere!)
I installed the Bootstrap Darkroom theme to become the default, and deactivated the Smart Pocket (mobile) theme.  In order to have images in the same dimensions that I had been using in Flickr, I modified the Photo Sizes Configuration.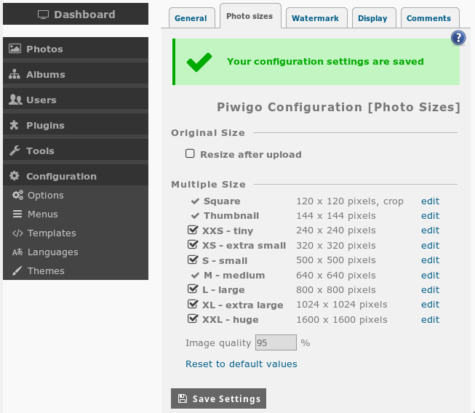 On my Distractions, reflections WordPress blog, I was able to rapidly substitute the Flickr-hosted images that I had embedded (in 2013, so far) with Piwigo-hosted images.  In the coming weeks, I can continue to deprecate Flickr, at leisure.
From my Piwigo-hosted site, I'm able to repost images to Tumblr with the Social Buttons plugin, and to Facebook with the ShareThis plugin.  (These show up readily by switching to the Elegant theme that comes with the default installation).
In conclusion, in less than a day, I've been able to easily migrate my 1800+ images from Flickr, over to a self-hosted Piwigo site.  This follows the spirit of the IndieWeb movement, where open source software provides the option to NOT be locked in to an online provider.  For individuals don't want to manage the infrastructure and exit from Flickr, a cloud provider of Piwigo provides an alternative path.