Dear Microsoft: After a 4-year separation with Windows 7, the constructive divorce that you've set for Windows 10 on July 29, 2016 will come into force.  I've just spent 30 hours trying to make things work.  I know that Lenovo says that the Windows 10 upgrade should work, but we're spending so little time together that I don't have energy to keep fighting.
We never really got married.  There was a time that I was spending up to 12 hours per day with you.  Our relationship has a long history:
Over the past few days, the messages you've been giving me have been more than frustrating.
On the Thinkpad X200, you told me "We couldn't install Windows 10",  and "0xC1900101 – 0x20017 The installation failed in the SAFE_OS phase with an error during BOOT operation" five times over 24 hours.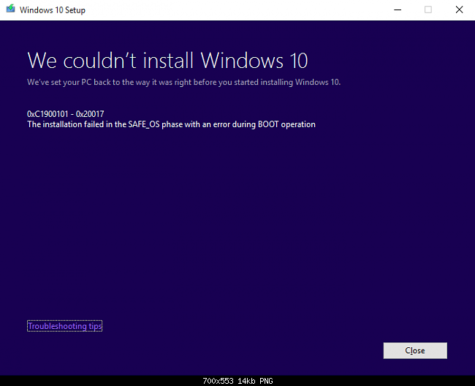 The BIOS is up to date and antivirus was removed.  I tried with both the automated installation and Media Creation Tool on USB, both with and without the online updates.  There were also long "Checking for update" delays, where I had to intervene.
Maybe upgrading on older Core 2 Duo Penryn computer isn't worthwhile.  I then turned my newer computer, a Core i7 Ivy Bridge.
Trying on the Thinkpad X230 Tablet, you told me "Something happened".  "Sorry, we have having trouble determining if your PC can run Windows 10".  This computer is on the "Lenovo supported systems list for Windows 10 Upgrade", so is the trouble my fault or your fault?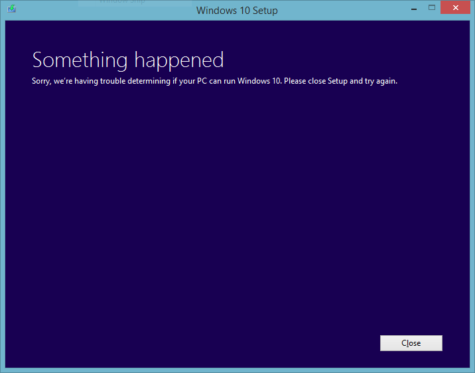 You led me to the Windows Update Troubleshooter, which found that the "Service Registration is missing or corrupt".  The automated install didn't fix everything, so I spent 15 minutes copying-and-pasting commands manually into a terminal window.  Thanks, that fixed the Service Registration problem. However the "Something happened" message is unchanged.
I'm not new to intense relationships.  I have to admit to not being fully committed to Microsoft for some decades. Read more... (1206 words, 2 images, estimated 4:49 mins reading time)
1. Courtship (1992-1996)
daviding June 26th, 2016
Posted In: technologies
Tags: microsoft, thinkpad, upgrade, windows, windows 10, windows 7, x200, x230
I'm migrating over to a Thinkpad T61, having last moved to a T41 in March 2005. Since research is core to my personal development, I've been diligent about preserving my digital files. My laptop stores documents created on a personal computer as early as 1994, with an archive of documents converted from mainframe files back to 1991. Thus, to move over to a new computer, it's taken three days (and nights) to transfer:
12.5 GB of work-related e-mail and databases (i.e. Lotus Notes e-mail plus local document-sharing replicas);
8.6 GB as 19,000 work-related flat files (i.e. documents and presentations, mostly created in Microsoft Word, Microsoft Powerpoint and Adobe Acrobat);
346 MB as 4900 work-related modeling files (i.e. created in Rational Software Modeler or Websphere Business Modeler, with a lot of XML);
1.2 GB of personal productivity files (i.e. browser profiles and plugins for Firefox and Flock, personal e-mail in Thunderbird, personal diary in Sunbird, and blog feeds in FeedDemon);
9.6 GB of streaming media (i.e. temporary storage for MP3 audio that I've recorded and haven't published to a web site yet, and lectures/interviews to be downloaded for listening to my MP3 player);
756 MB of digital photographs archived on other servers, but yet to be blogged (or not); and
2.4 GB of working files to maintain my multiple web sites (to speed up recovery if an irreversible crash ever happens).
There must be thousands of IBM employees annually who upgrade from one computer to a replacement. The company provides excellent utilities for migration that undoubtedly take less than three days. Most people would probably follow the path of least resistance: to move from an existing Windows XP platform to a new hardware with the same XP operating system.
I have a concern on the longer term, though: Microsoft stopped selling XP in June 2008, and support for XP Service Pack 3 ends in April 2010. Microsoft's flagship product is clearly Vista. I expect to be on this laptop for another three years before becoming entitled to a replacement.
IBM as a company has been running a beta on the Technology Adoption Program for a new "IBM Standard Desktop – Vista" since April 2007. In parallel, however, there's also been a beta on Open Client for Linux with version 1.0 released in November 2005 and version 2.0 released in June 2006. We're now at version 2.2. This is an complete software package configured and tested on the standard models of laptops that IBM issues employees. Internal technical support specialists do the work of keeping up with newest software releases (e.g. Lotus Notes 8 and Lotus Symphony 1.1 ). Their work reduces my effort to maintain my PC, after I've moved my content over. In the case of a complete breakdown of my computer, I should be able to get an emergency replacement and be back up and running in less than 24 hours.
Around the office, people have been each choosing one of three paths. Read more... (2750 words, estimated 11:00 mins reading time)
daviding September 27th, 2008
Posted In: technologies
Tags: ext3, fat32, linux, mozilla, ntfs, open client, os/x, red hat, sunbird, technology adoption program, thunderbird, windows, xp