The Cities Centre at the University of Toronto recently hosted a two day workshop on "Finding Connections Towards a Holistic View of City Systems", as an NSERC Partnership Workshop to bring together academics, industry and government participants.  I was privileged to be invited as one of the 30 attendees to discuss potential future collaborations through a systems approach to urban issues.  The meeting was hosted by professors Steve Easterbrook and Eric J. Miller, and coordinated by Kathryn Grond.
On the first day, we had three speakers set stage for discussion:
Groups broke out for an exercise developing stories using Drivers of Change cards as triggers, and then writing some future headlines of outcomes that might be a result of future research.
On the second day, the morning was dedicated to 12 "Tools Talks" on emerging tools, techniques, data and models for collaborative work.  With a 7-minute target, I raced through a presentation on "Service Systems, Natural Systems: Systems Approaches to Urban Issues", making relevant many of the ideas introduced at ISSS 2012.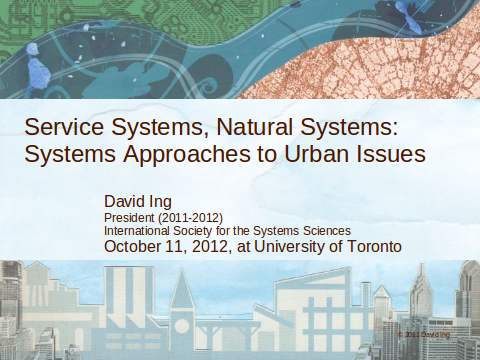 In addition, I spoke on behalf of Roy Wiseman and Jim Amsden to introduce continuing development of the "The Municipal Reference Model: Government by Design".  I echoed David Miller's advice to "partner with the civil service", as the MRM has a history of grassroots development by municipalities across North America.
| | |
| --- | --- |
| The Municipal Reference Model: Understanding the DNA of Government | Government by Design: Techniques for Designing and Managing the Business of Government |
Participants generated research questions and ideas during the twelve "Tools Talks".  In the afternoon, the ideas were reorganized by attendees into clusters for discussion.  I opted for the group interested in "urban metabolism" and "sustainability and resilience".  An hour of discussion resulted in a preliminary research question of "What are manageable stable states for cities?", based on the potential for a variety of systems designs — appreciating the new research into ecological regime shifts — and urban allometry.  Colloquially, we thought that an urban area could be 10% too small or 20% too big — i.e. between two more desirable stable states — so that the system might be "caught in the middle" with difficult dysfunctions.  When pressed by other workshop attendees on how the stable states might be measured, our group responded that the research on ecological regime shifts is relatively recent, and definitional questions would have to be part of the preliminary research for an urban context.
The workshop concluded with other groups sharing their preliminary research questions.  The formal summaries of the workshop should be posted on the City Science web site in due time.