The pattern language community — followers of Christopher Alexander's approach — is distributed globally.  I participated in PLoP 2014 at Allerton Park, Illinois last September, and then attended AsianPLoP 2015 in Tokyo last March.  I had been eyeing the PUARL (Portland Urban Architecture Research Laboratory) conference for fall 2015, but then heard that the event was being incorporated into Purplsoc for 2015.  I originally couldn't justify a trip to Europe for the Purplsoc (Pursuit of Pattern Language for Societal Change) 2015 conference, but then its timing turned out to be back-to-back with the ISIE conference.  So, just 3 weeks before the conference, I booked a triangular routing to arrive just in time for the start on July 3, in Krems, Austria.
On the Friday, the program started with some plenary session keynotes:
Saturday morning started with a keynote.
The rest of Saturday morning had parallel streams.  I was in the Pattern applications and practices session.
By Saturday afternoon, some of the parallel sessions were being juggled.  I attended:
To close out Saturday, there was a plenary panel:
Sunday morning opened with a most impressive plenary keynote:
The Sunday parallel session on Pattern languages for societal change had one impromptu workshop set up, before the scheduled one.
This conference didn't have as much time scheduled for games as the one in Illinois.  Still, the closing ceremony is always touching.
My presentation, slimmed down to fit into the 30 minute time slot, was tailored for this audience:  more descriptive on service systems, bridging over from the problem-seeking heritage of architectural programming to 8 activities described by Christopher Alexander on the 1985 Eishin project, and bringing up the awareness on the new work on federated wiki.  There's recorded audio on the talk, and the slides are posted on the Coevolving Commons.
[20150704_1200_Purplsoc_Ing.MP3] (23MB, 23m41s, 44100 hz, 128kpbs)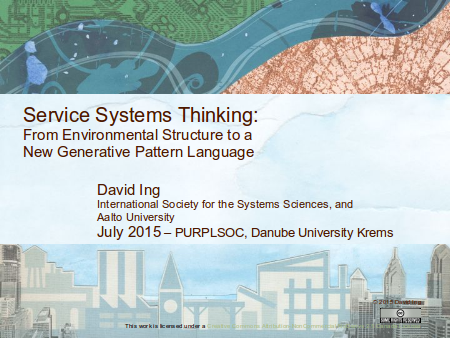 For me, the quick trip to Europe for Purplsoc was well worth the jet lag.  While PLoP and AsianPLoP tend to have a lot of attendees from computer science, this meeting had professionals working more with built environments and social systems.  PUARL is planned to back in the United States for 2016, and I hope to have more work done on Service Systems Thinking to show, by then.