At U.C. Berkeley in the 1960s, Christopher Alexander, Horst Rittel and C. West Churchman could have had lunch together.  While disciplinary thinking might lead novices to focus only on each of pattern language, wicked problems and the systems approach, there are ties (as well as domain-specific distinctions) between the schools.
West Churchman joined Berkeley in 1957, and initiated master's and doctoral programs in operations research at the School of Business Administration.   From 1964 to 1970, Churchman was associate director and research philosopher at UC Berkeley's Space Sciences Laboratory, directing its social sciences program.  After his retirement in 1981, Churchman taught in the Peace and Conflict Studies program for 13 years.
Horst Rittel came to the Berkeley College of Environmental Design in 1963, the same year that dean William Wurster recruited Christopher Alexander.  In 1973, Rittel split his time between Berkeley and the architecture faculty at the University of Stuttgart, where he founded the Institut für Grundlagen der Planung.
Christopher Alexander became a cofounder of the Center for Environmental Structure at Berkeley in 1967, gradually moving outside of the university by 2000.
The tie between Churchman and Rittel are well-documented, in a 1967 article in Management Science.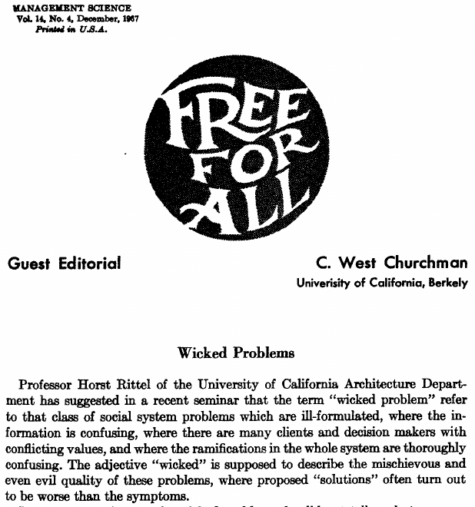 Professor Horst Rittel of the University of California Architecture Department has suggested in a recent seminar that the term "wicked problem" refer to that class of social system problems which are ill-formulated, where the information is confusing, where there are many clients and decision makers with conflicting values, and where the ramifications in the whole system are thoroughly confusing. The adjective "wicked" is supposed the describe the mischievous and even evil quality of these problems, where proposed "solutions" often turn out to be worse than the symptoms. [p. B-141] Read more... (2532 words, 2 images, estimated 10:08 mins reading time)
daviding October 14th, 2017
Posted In: pattern language, systems
Tags: c. west churchman, christopher alexander, horst rittel, Thorbjoern Mann
For the "Understanding Systems & Systemic Design" course in the program for the Master of Design in Strategic Foresight and Innovation at OCAD University, the lecture slides were the same for both the full-time cohort on March 8 and part-time cohort on March 9, while the oral presentation varied.  The target, in about 90 minutes, was to cover at least 4 of 5 sections, from:
1. Architecting ↔ designing
2. Service systems ← production systems
3. Affordances ↔ pattern language
4. Ecological anthropology ← teleology
5. Inquiring systems ↔ methods
The students were alerted that some of the arrows in the section headings were double-headed, and some were single-headed — with specific meanings.  For each day, the classroom audio was recorded.  That digital audio has now been synchronized with slides that had previously been posted on the Coevolving Commons.
This session was #8 of 15 lectures for the OCADU SFI students.  They had already done some basic reading on systems approaches.  Since they were working towards a Major Research Project (a lighter weight form of a thesis) for their Master of Design degree, my overall agenda for this lecture was to have them reflect on acts of representation.   Systems have already been represented to them in a variety of forms:  textually, orally and visually.  For their Major Research Projects, they would be creating detailed representations, as ways of having their audience appreciate the in-depth study of the world and issues selected for the term. Read more... (555 words, 1 image, estimated 2:13 mins reading time)
daviding June 7th, 2017
Posted In: design, pattern language, services, systems
Tags: affordance, architecture, design, pattern language, service systems, systems-thinking
Teaching methods in a master's class is different from lecturing on theory.  There's more emphasis on how, with why subsequently provided as the need for that arises.  Since I had given a dense 20-minute theoretical talk in the month earlier, the invitation from Satu Teerikangas to the program in International Service Business Management was an opportunity to stretch out at a more leisurely pace with students, as they're preparing for thesis work.
The 3 hours class was conducted in parts:
(A) Introductory lecturing for 85 minutes on …

1. Architecting versus designing
2. Alexandrian example → services

(B) Faciliated learning, for 55 minutes, with an …

3. Exercise:  trying out pattern language

(C) Contextual lecturing for 23 minutes, on …

4. Systems thinking + service systems
5. Ignorance and errors
The classroom interaction was recorded in audio, and is complemented by slides that had been posted on the Coevolving Commons.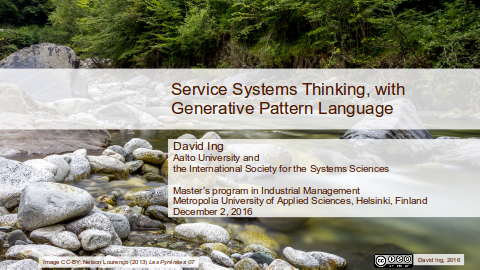 For people who prefer the real-time experience of being in a classroom, video and audio are provided, below. Read more... (905 words, 1 image, estimated 3:37 mins reading time)
daviding January 13th, 2017
Posted In: pattern language, services, systems
Tags: pattern language, service systems
At the PUARL Conference 2016, a proposal was made on adapting pattern language for service systems thinking.  In 1967, Christopher Alexander published Pattern Manual at the founding of the Center for Environmental Structure, describing a pattern format for physical built environments.  While we can learn a lot from the nearly 50 years work originating at the CES, service systems have features beyond physicality that suggest reconsidering some of the foundations of pattern language.
An article for discussion was accepted into the proceedings for the PUARL conference.  The 20-minute presentation quickly covered the following topics:
1. Pattern Manual 1967 + Service Systems
2. Alexandrian example → services
3. Methods clarified since 1973
4. A new format:  amplifying, rephilosophizing, reinterpreting prior doxa
5. Generating and legitimizing in communities
Slides have been added over the audio recording to produce a video presentation.
For people who prefer visuals at their own pace, the slides are posted on the Coevolving Commons.  The video is available on Youtube. Read more... (457 words, 2 images, estimated 1:50 mins reading time)
daviding November 17th, 2016
Posted In: pattern language, services, systems
Tags: christopher alexander, pattern language, service systems, systems-thinking
A lecture for the Master's Program in Industrial Management at Helsinki Metropolia University of Applied Sciences was an opportunity to talk about the research that has been brewing over the past 18+ months, from the basics.  These students were unlikely to have heard much about (i) systems thinking; (ii) service systems, (iii) generative pattern language, or (iv) federated wiki.
Coming to Metropolia in 2015 was like a return home.  In 2006, the institution was named Helsinki Polytechnic Stadia, and I collaborated on starting up the curriculum as part of the Rendez project.  In recent years, I haven't been so involved.  As I was planning a trip to Europe this fall, I discovered that Satu Teerikangas had returned from teaching at UCL in the UK to Finland, becoming the Head of the Industrial Management Program.  My itinerary coincided well with the course dates, so I pulled together a presentation from the evolving ideas over the last year.  The audience would be a combination of students from the Industrial Management program and the Logistics program.
The session was conducted in two parts, each slightly under 60 minutes.  The first part covered:
1. What could Service Systems Thinking be?
2. Systems Thinking
3. SSMED (Service Science, Management, Engineering and Design)
In the second part after the break, the agenda covered: Read more... (350 words, 1 image, estimated 1:24 mins reading time)
4. Generative Pattern Language
5. Multiple Perspectives Open Collaboration (federated wiki)
6. Context that are coevolving?
daviding October 21st, 2015
Posted In: pattern language, services, systems
Tags: federated wiki, pattern language, service science, service systems thinking, systems-thinking
The pattern language community — followers of Christopher Alexander's approach — is distributed globally.  I participated in PLoP 2014 at Allerton Park, Illinois last September, and then attended AsianPLoP 2015 in Tokyo last March.  I had been eyeing the PUARL (Portland Urban Architecture Research Laboratory) conference for fall 2015, but then heard that the event was being incorporated into Purplsoc for 2015.  I originally couldn't justify a trip to Europe for the Purplsoc (Pursuit of Pattern Language for Societal Change) 2015 conference, but then its timing turned out to be back-to-back with the ISIE conference.  So, just 3 weeks before the conference, I booked a triangular routing to arrive just in time for the start on July 3, in Krems, Austria.
On the Friday, the program started with some plenary session keynotes:
Saturday morning started with a keynote.
The rest of Saturday morning had parallel streams.  I was in the Pattern applications and practices session.
By Saturday afternoon, some of the parallel sessions were being juggled.  I attended:
To close out Saturday, there was a plenary panel:
Sunday morning opened with a most impressive plenary keynote:
The Sunday parallel session on Pattern languages for societal change had one impromptu workshop set up, before the scheduled one. Read more... (568 words, 2 images, estimated 2:16 mins reading time)
daviding August 10th, 2015
Posted In: pattern language
Tags: christopher alexander, pattern language, purplsoc