Prior talks on Service Systems Thinking have focused on basics.  For this year's Symposium on Service Systems Science at the Tokyo Institute of Technology, I decided to step up the emphasis in a short presentation on some selected ideas:
An unfolding is a process which gets you from one stage or moment of development to the next moment of development, in the evolution of a neighborhood or in the evolution of a building;  and
Value is dynamic, with access consciousness ex-ante and ex-post, and phenomenological consciousness in lived experience
From the 8 practices employed by Christopher Alexander on the 1985 Eishin project, I focused on one:
Find systems of centers in (i) the notions in people's minds, and (ii) the places in the land. Combine them.
These ideas are at the core of how systems thinking is intertwined with service science, and pattern languages.  Jim Kijima and Hiroshi Deguchi arranged for a videographer this year, so there's a record of the presentation.
The video is available on Youtube, or downloadable as audio or video.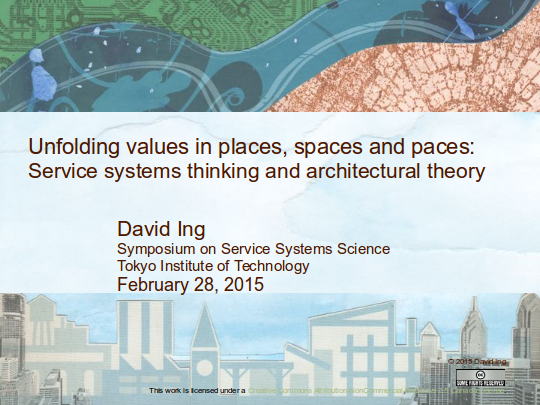 The slides are available on the Coevolving Commons.