The October 2018 acquisition of Red Hat by IBM gives me hope.  Both IBM and Red Hat have been champions in promoting open sourcing behaviours.
Open sourcing is an open innovation behaviour related to, but distinct from, open source as licensing.  [Ing (2017) chap. 1, p. 1].

The label of open sourcing frames ongoing ways that organizations and individuals conduct themselves with others through continually sharing artifacts and practices of mutual benefit. The label of private sourcing frames the contrasting and more traditional ways that business organizations and allied partners develop and keep artifacts and practices to themselves.  [Ing (2017) sec. 1.2, p. 5].

The label of open source is most readily recognized from software development. An open source license allows free use, modification and sharing.  Open sourcing is a norm where the resources of system internals, e.g. artifacts and practices, are shared in a community beyond the originators.  Private sourcing is coined as a norm where the resources of system internals are reserved within a privileged group.  [Ing (2017) sec. 1.3, p.6]
This deal continues a socio-economic trajectory by IBM … Read more... (2404 words, 1 image, estimated 9:37 mins reading time)
starting in 1993 with the Lou Gerstner expectation of "open, distributed user-based solutions" after the Chantilly meeting [Ing (2017) sec. 2.3.1, pp. 55-56];
daviding November 2nd, 2018
Posted In: governance, innovation, technologies
Tags: acquisition, ibm, merger, open sourcing, oracle, red hat, sun microsystems
The style of reports in the original IBM Consulting Group style is explained well by @buckwem, with presentation slides in landscape format following Minto's pyramid principle structured with horizontal logic and vertical logic.  I never met Mark Buckwell during my IBM career, but he's been there since 1993, so we "went to the same school".  If I'm not using this style in a presentations, it's for a conscious reason, as this way of writing and presenting is always in the back of my mind.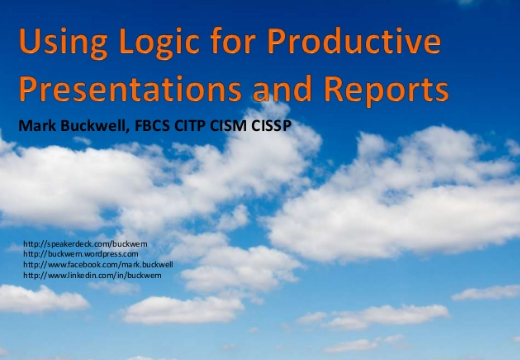 On Slideshare, Mark has shared Using logic for productive presentations and reports 31-jan-2013 – speakerdeck in the series http://www.slideshare.net/markbuckwell
Mark first surfaced Using Logic for Productive Presentations and Reports while teaching a chemical engineering course at Birmingham University, on a blog post at http://buckwem.wordpress.com/2013/01/31/using-logic-for-productivepresentations-and-reports/.
The Pyramid Principle from Barbara Minto was first written over forty years ago and defines a logical way of writing reports and presentations. The technique first came from McKinsey and Company but it is now used by many management consulting companies including IBM Global Business Services.
On a subsequent blog post, he provides a rigourous "Checklist for Presentation Logic" at http://buckwem.wordpress.com/2013/02/03/checklist-for-presentation-logic/ .  This knowledge is normally imparted situationally by experienced engagement managers, so the checklist could seem intimidating for individuals coming up the learning curve.
daviding August 8th, 2013
Posted In: practices, services
Tags: horizontal logic, ibm, minto, presentations, vertical logic
In the IBM Archives, there's a "IBM Management Principles & Practices" document that reflects the culture of an organization where I spent 28 years.  The 19 pages includes articles by seven IBM chairmen over a span of 90 years (published in 2002):
| | | | |
| --- | --- | --- | --- |
| # | Article | Author | Date |
| 01. | Basic Beliefs and Management Principles | Thomas J. Watson, Jr. | April 1969 |
| 02. | Basic Management Responsibilities | Thomas J. Watson, Jr | July 1960 |
| 03. | Be Yourself | Frank Cary | September 1975 |
| 04. | Community Education | Thomas J. Watson, Jr. | August 1961 |
| 05. | Community Service | T. Vincent Larson | December 1971 |
| 06. | Conformity | Frank Cary | August 1973 |
| 07. | Decision-Making | Thomas J. Watson, Jr. | October 1963 |
| 08. | Equal Opportunity | Frank Cary | February 1974 |
| 09. | Ethical Conduct | Thomas J. Watson, Jr. | June 1961 |
| 10. | Gobbledygook | Thomas J. Watson, Jr. | February 1970 |
| 11. | Human Relations | Frank Cary | December 1975 |
| 12. | Managing People | Thomas J. Watson, Jr. | October 1964 |
| 13. | Moves | Thomas J. Watson, Jr. | May 1968 |
| 14. | Provincialism | Thomas J. Watson, Jr. | June 1962 |
| 15. | Quality | John R. Opel | December 1981 |
| 16. | Recognition | Thomas J. Watson, Jr. | March 1970 |
| 17. | Thinking | Thomas J. Watson, Sr. | February 1930 |
| 18. | Trust | John F. Akers | June 1986 |
| 19. | Why | Thomas J. Watson, Jr. | May 1963 |
| 20. | Women | T. Vincent Learson | August 1970 |
| 21. | Win, Execute and Team | Louis V. Gerstner, Jr. | 1998 |
The article that led my interest was "Basic Beliefs and Management Principles", which alphabetically happens to be first.  The "codification of the basic beliefs" is placed in the year 1962 by the IBM Archives, so the 1969 restatement by Thomas J. Watson, Jr. came seven years later.  The letter was addressed to IBM managers:  the first three points review the basic beliefs, followed by four principles for managers to heed:
Basic Beliefs and Management Principles

As you all know, we have long held to three basic beliefs in the conduct of this business: Respect for the individual, the best customer service and superior accomplishment of all tasks. Read more... (2567 words, 1 image, estimated 10:16 mins reading time)
daviding June 7th, 2013
Tags: beliefs, ibm, management, principles, values