Since my cPanel shared hosting provider supports node.js hosting, installing a federated wiki site beside the usual Softaculous packages is an option. The app requires node.js, and there is a variety of ways to deploy that.
In 2014, I had installed a federated wiki site on Openshift, but then didn't maintain it as other priorities surfaced.  The site is now available at http://wiki.coevolving.com, and the prior content has been restored.
The installation isn't a one-button procedure.  However, an administator comfortable with opening an SSH terminal onto your shared hosting account should be able to follow the steps below.  (If you have problems, the federated wiki community hangs out in a room on matrix.org).
A. Creating a Subdomain
(1) Through your browser, from cPanel … Domains … , create a Subdomain.

As an example, I can create a Subdomain wiki in the Domain coevolving.com, that will actually be stored in my Home (Document Root) as a wiki.coevolving.com directory.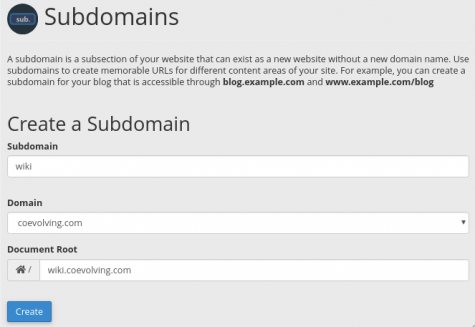 B. Installing Federated Wiki
(2) From cPanel … Software … Setup Node.js App.

Read more... (1000 words, 8 images, estimated 4:00 mins reading time)
In the Web Applications list, Create Application.  As an example, set:

Node.js version: 10.11.0
Application mode: Production
Application root: wiki.coevolving.com
daviding January 1st, 2019
Posted In: technologies, web tools
Tags: cpanel, federated wiki
A lecture for the Master's Program in Industrial Management at Helsinki Metropolia University of Applied Sciences was an opportunity to talk about the research that has been brewing over the past 18+ months, from the basics.  These students were unlikely to have heard much about (i) systems thinking; (ii) service systems, (iii) generative pattern language, or (iv) federated wiki.
Coming to Metropolia in 2015 was like a return home.  In 2006, the institution was named Helsinki Polytechnic Stadia, and I collaborated on starting up the curriculum as part of the Rendez project.  In recent years, I haven't been so involved.  As I was planning a trip to Europe this fall, I discovered that Satu Teerikangas had returned from teaching at UCL in the UK to Finland, becoming the Head of the Industrial Management Program.  My itinerary coincided well with the course dates, so I pulled together a presentation from the evolving ideas over the last year.  The audience would be a combination of students from the Industrial Management program and the Logistics program.
The session was conducted in two parts, each slightly under 60 minutes.  The first part covered:
1. What could Service Systems Thinking be?
2. Systems Thinking
3. SSMED (Service Science, Management, Engineering and Design)
In the second part after the break, the agenda covered: Read more... (350 words, 1 image, estimated 1:24 mins reading time)
4. Generative Pattern Language
5. Multiple Perspectives Open Collaboration (federated wiki)
6. Context that are coevolving?
daviding October 21st, 2015
Posted In: pattern language, services, systems
Tags: federated wiki, pattern language, service science, service systems thinking, systems-thinking
Evolving the Proposal to Collaborate on a Pattern Language for Service Systems from January, the initiative has now taken on a label of Service Systems Thinking.  The presentation at the 58th Annual Meeting of the International Society for the Systems Sciences in Washington DC was recorded, so that interested parties have the option of watching or listening ideas that have developed over the past six months, and reading the slides at their leisure.  Here's the abstract:
"Service systems thinking" is proffered as a label for an emerging body of work that: (i) builds on social systems thinking (i.e. socio-psychological, socio-technical and socio-ecological systems perspectives) to advance a transdisciplinary appreciation of service systems science, management, engineering and design; (ii) explores opportunities to enrich Alexanderian patterns and categorized pattern catalogs into a generative pattern language; and (iii) collaborates on new platforms, moving from inductive-consensual wiki pages to a multiple-perspectives (federated) wiki.
The session was conducted in two parts, each of about 90 minutes.  The first part had a soft start playing some videos on the Smallest Federated Wiki by Ward Cunningham, since participants were coming back from lunch in another building.  The presentation alternated between projected slides, and live content on the federated wiki at http://fed.coevolving.com/view/welcome-visitors/view/service-systems-thinking.  The agenda covered:
1. Service Systems Thinking, In Brief

1.1 An intentional representation
1.2 An object-process representation

2. Conversations for Orientation

2.1 Systems thinking
2.2 SSMED (Service Science, Management, Engineering and Design
2.3 Generative Pattern Language
2.4 Multiple Perspectives Open Collaboration
In the second part after the break, the agenda covered: Read more... (466 words, 1 image, estimated 1:52 mins reading time)
3. Conversations for Possibilties

3.1 [Multiple Perspectives Open Collaboration]: We could have federated authored content on open source platforms
3.2 [Generative Pattern Language]: We could be reoriented for unfolding wholeness, layering systems of centers and/with creating interactive value
3.3 [SSMED]: We could have trans-disciplinary cooperation on service systems improvement
3.4 [Systems thinking]: We could have service systems evolving from the systems thinking tradition
daviding August 26th, 2014
Posted In: design, services, systems, technologies
Tags: collaboration, federated wiki, pattern language, service systems, service systems thinking, systems-thinking, video