Author
David Ing
Abstract
In fall 2010 and winter 2011, two new courses in systems thinking were initiated as core curriculum in the master's programme in Creative Sustainability at Aalto University in Finland. As intensive courses, each was to be conducted as three full days of lectures over eight days, with students fulfilling credit hour requirements both independently and in group activities over a two-to-three month period. To complement the teaching staff at the university, a researcher active in the systems science community was brought in from abroad as a subject matter expert for the two courses.
In the summer preceding the first session, a reading list for the courses was drawn from current leading sources in the systems sciences, starting from 2010 and linking back to prior references of relevance. Lectures were prepared as minimal critical specifications, with concepts mapped into clusters of references, with the majority of sources available electronically over the Internet. On each set of the three lecture days, the courses were delivered in a face-to-face classroom setting, coupled with group activities designed in the style of Singerian inquiring systems. Coordinating artifacts from the instructors evolved and were incrementally updated on a publicly-accessible web site, and students followed the social media style of posting their reflections on publicly-visible weblogs linked with notifications on an activity stream at a systems community hub.
Supplementing the chronological recollections of development and learning during the courses sessions, theoretical reflections constructed in hindsight may serve to inform the form and content of similar educational opportunities in other contexts.
Preparations are underway as the courses are being naturally evolved for a second cohort of students in fall 2011. The completion of one cycle of two courses presents an opportunity for reflections on the approach employed in the innovation/startup cycle, with considerations for improvements and/or replication for similar programs in the future.
Keywords: systems thinking, education, sustainability, resilience, dialogue
Citation
David Ing, "Systems Thinking Courses in the Master's Programme on Creative Sustainability at Aalto University: Reflections on Design and Delivery of the 2010-2011 Sessions", Proceedings of the 55th Annual Meeting of the International Society for the Systems Sciences, Hull, UK, July 17-22 2011.
Presentation map
[view map for ISSS 2012 presentation]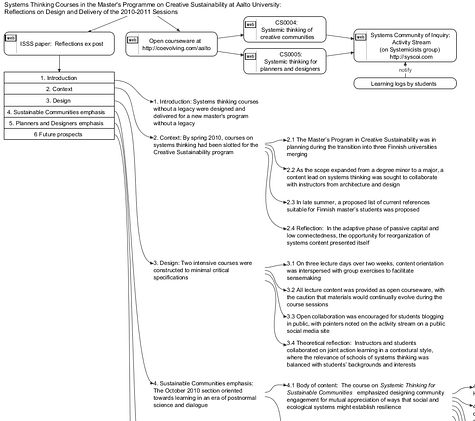 Content
This work is licensed under a
Creative Commons Attribution-NonCommercial-ShareAlike 4.0 International License