Evolving the Proposal to Collaborate on a Pattern Language for Service Systems from January, the initiative has now taken on a label of Service Systems Thinking.  The presentation at the 58th Annual Meeting of the International Society for the Systems Sciences in Washington DC was recorded, so that interested parties have the option of watching or listening ideas that have developed over the past six months, and reading the slides at their leisure.  Here's the abstract:
"Service systems thinking" is proffered as a label for an emerging body of work that: (i) builds on social systems thinking (i.e. socio-psychological, socio-technical and socio-ecological systems perspectives) to advance a transdisciplinary appreciation of service systems science, management, engineering and design; (ii) explores opportunities to enrich Alexanderian patterns and categorized pattern catalogs into a generative pattern language; and (iii) collaborates on new platforms, moving from inductive-consensual wiki pages to a multiple-perspectives (federated) wiki.
The session was conducted in two parts, each of about 90 minutes.  The first part had a soft start playing some videos on the Smallest Federated Wiki by Ward Cunningham, since participants were coming back from lunch in another building.  The presentation alternated between projected slides, and live content on the federated wiki at http://fed.coevolving.com/view/welcome-visitors/view/service-systems-thinking.  The agenda covered:
1. Service Systems Thinking, In Brief

1.1 An intentional representation
1.2 An object-process representation

2. Conversations for Orientation

2.1 Systems thinking
2.2 SSMED (Service Science, Management, Engineering and Design
2.3 Generative Pattern Language
2.4 Multiple Perspectives Open Collaboration
In the second part after the break, the agenda covered:
3. Conversations for Possibilties

3.1 [Multiple Perspectives Open Collaboration]: We could have federated authored content on open source platforms
3.2 [Generative Pattern Language]: We could be reoriented for unfolding wholeness, layering systems of centers and/with creating interactive value
3.3 [SSMED]: We could have trans-disciplinary cooperation on service systems improvement
3.4 [Systems thinking]: We could have service systems evolving from the systems thinking tradition
All of this content is work in progress.  The way that the work should continue to unfold is as a community.  Some fundamentals have been laid out, so that people with like minds can have a common platform for discussing on how we might jointlyl move forward.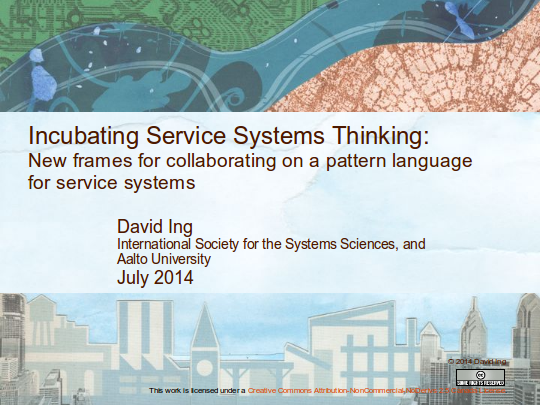 The slides are available on the Coevolving Commons.  The two videos are available as a Youtube playlist.