2007/04/27 08:35 Henry Chesbrough, "Welcome", Innovation in Services Conference, Berkeley, California
This digest was created in real-time during the meeting, based on the speaker's presentation(s) and comments from the audience. The content should not be viewed as an official transcript of the meeting, but only as an interpretation by a single individual. Lapses, grammatical errors, and typing mistakes may not have been corrected. Questions about content should be directed to the originator. The digest has been made available for purposes of scholarship, posted on the Coevolving Innovations web site by David Ing.
Event sponsors:
Institute of Management, Innovation & Organization (IMIO),
Haas School of Business, UC Berkeley
The Information School at UC Berkeley
Citizens for IT Research in the Interest of Society
California Management Review
Finnish Funding Agency for Technology and Innovation - Tekes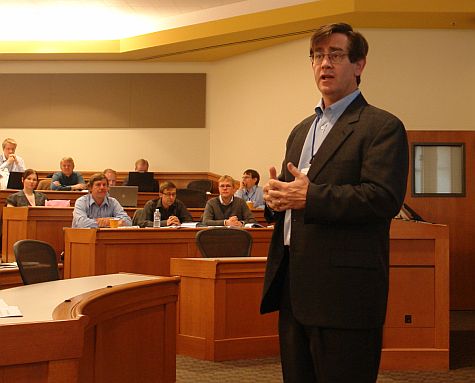 Welcome by Henry (Hank) Chesbrough
Co-sponsorship by Berkeley and Tekes
Had approached NSF for funding last year, but they didn't have a category
Response: won't this just create jobs in India?
Opportunity for high-wage countries
This work is licensed under a
Creative Commons Attribution-NonCommercial-ShareAlike 4.0 International License