This digest was created in real-time during the meeting, based on the speaker's presentation(s) and comments from the audience. The content should not be viewed as an official transcript of the meeting, but only as an interpretation by a single individual. Lapses, grammatical errors, and typing mistakes may not have been corrected. Questions about content should be directed to the originator. The digest has been made available for purposes of scholarship, posted on the Coevolving Innovations web site by David Ing.
Intro by Henry Chesbrough
Innovation and management in services in a global economy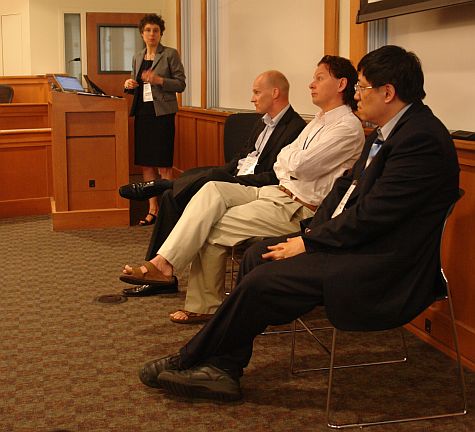 Panel
Panel Chair: AnnaLee Saxenian, dean of the information school at Berkeley, trained as a regional economist and technologies: 1994 book on "Regional Advantage" contrasting Route 128 versus Silicon Valley, relational network distributed organizational structures in Silicon Valley, compared to hierarchical

The New Argonauts: at a global level, and the role of individuals who are argonauts
This panel session will focus on:
Challenges of managing services in a global economy

Wayne Dai, Chairman and CEO, Verisilicon, chip design in Silicon Valley, with manufacturing in China and Texas where they capitalize on the chip architecture
Henry Tirri, Nokia, runs systems research centres around the world, a new role: in Palo Alto, Beijing, two in Cambridge, as search networks around the world
Anssi Rantasalo, Managing Director, Kemppi Oy, manufactures electric arc welding with services
Minna:
Memory sticks in U.S. customs
Content will also be
[AnnaLee Saxenian]
Argonaut, returns with golden fleece, but keeps ties
To now, though of globalization in terms of manufacturing busineses, not services
Even the most commodity-like products must become services, to be value-added
Two questions:
Explain your company, the service aspects, and globalization
Top three challenges of managing global services
[Anssi Rantasalo, Managing Director, Kemppi Oy]
PC broke down in Frankfurt, no
Kemppi, family-owned business, 1949
Customers are in ship-building
160M Euro business, 15 countries, 730 people on payroll
Still family owned
Typical equipment manufacturer
Success on technology leadership, high quality, and internationality
Went international from Finland in early 1950s
Almost a global company, but not large
Globalization is putting pressure on manufacturing and technology industries
Need to innovate outside technology area
Engage company to industrial services business
Move up the value curve to transform from equipment provider to solution provider
Have always had some services, including information services
Have done some training, consultancy
Provide maintenance
Solutions: standard equipment that we manufacture, incorporating technology outside our R&D, related to open innovation
e.g. wireless information transfer systems, with network destinations
Enables customers with systems for quality and productivity control
Remote diagnoses, preventive maintenance
Software is a big part
Service, whether man-to-man or maintenance or reporting, is becoming more important
[Henry Tirri, Nokia]
Disclaimers:
Formerly life, used to speak as academic
Research person, leading research
Perspective is renewing Nokia, not focused on present
Lead innovation globally, trying to find a way to renew a giant, eating mouses
Global as a company, global markets
An adventure, won't talk about theories, although good at that
Company history
Nokia has renewed itself many times, from paper/pulp to current cellular phones
Are currently in the process of renewing again
Maybe not like before
Rubber boot company
Are a technology company
Renew Nokia, lead Nokia, look outside of core business
Handsets play only a minor role, there's another group in Nokia researching core technologies
More than better devices
Device has a role, but moving towards the service-dominant: hardware, software, services
Numbers:
Produce 13 devices per second, 1 million per day (and producing 1 million empty boxes per day is already an achievement)
Challenge: what do you do with a giant, that is in a playoff game
Large scale, optimized logistics, yet want to innovate and compete in different domains coming together
Internet companies, carriers, phone companies all want to come together
Google wants to make a phone, Apple has already done it, carriers want services, Nokia and others want to bypass carriers
What is the enabling?
Voice centric phones
Multimedia phones
Corporate-connected phone
Multiple convergences going on
Converged devices are fastest growing market
Software has become important
Symbian, S60, a necessity
PCs became popular on standard software platform
Computer scientists by training
Have been working with universities
Most challenging: these new devices as the new platform, a world of 1 billion devices
Connected, not just voice, but computing platform
Obvious: mobilizing Web 2.0, more and more sophisticated services, not just passively viewing data
Mapping, navigation, location-based services
Almost all mobile handsets from latter 2007 will have GPS built in
GPS by itself doesn't do anything, how do you use this information?
Came today from Palo Alto over Dumbarton bridge, would have liked to have total dynamic traffic module
Music
Mobile entertainment has different dimension
Working with Hollywood immersive formats
Camera:
Imaging local level, building a map of the world, sharing it as a service
Service mash-ups, services on top of services
Same game as Google plays: a platform game
Not just a device game, the value of the device comes from the services and overall interaction, whether you're a carrier, telco or device company
[Wayne Dai, Chairman and CEO, Verisilicon]
Integrated device manufacture
Digital 1.0: mainframe days,
IC fabs, with only TI and IBM continuing to invest
2.0: Separation of design from manufacturing
Taiwan took advantage of this, fabless
Now, design is expensive
Starting is $20M
If this is a good market, why isn't Broadcom doing this?
Have to do something to outsource design
Call this Digital 3.0 for midsized companies
iPod, everything is outsourced
Manufacturing is considered to be a service
Design foundry as a service
Last week, Bosch pulled out, have also outsourced
Reduce cost in electronics
Components are from China
Components are System-on-a-Chip
Core competence is not implementation
Software architecture defines markets
Software companies take most profit from components, want to do less from more
Not outsourcing China to China, from outside China to China
Support worldwide
Manufacturing, packaging, testing, with the branded name on the chip
Don't build until there's an order
New 3 C's:
Still consumers at central
Need a China strategy
Consolidation everywhere, pressure to outsource
[AnnaLee]
Relentless: moving towards customers, services
Challenges of managing?
[Anssi]
1. Creating a service culture and mindset, for both service innovation and execution
2. Need to educate the industrial market to pay for services that they used to get for free, in the capital equipment
3. Managing quality at a global level when getting together with partners, e.g. maintenance and repair, other kinds of services
Question: how manage the conflicting agenda of partners in different ecosystems?
Need to be innovative at how we train to give them capacity to do service
Building loyalty in innovative ways
[Henri]
1. Scale: interested in services which are different from a traditional growth market, since there are 1 billion device platforms readily available
Growth model is good, because can debug things on the way
One-shot model means sink or go
Achieving this requires innovation mechanisms to debug earlier
Are moving fast to living labs innovation: testing, roadmap, design
2. Ecosystem game: if one piece missing, don't have anything
Content, platform, distribution
Maybe something in between, e.g. communication channel
Assume starting to use devices as sensors, sending 100 bytes per minute x 1 billion devices, this would collapse the network
e.g. pollution sensing around the globe, but the data would congest the whole system
3. World is so heterogenous
New, when joined Nokia
Understanding different questions and challenges in India, China, North America
What is a service, what are the innovations from the consumer parts ... is like day and night
e.g. privacy: location-based service, first question in North America, what do you do with the location data; and this isn't a question in India, where no one cares about statistical advantages
[Wayne]
1. Repeatable, scalable, high-availability service
Division: integration of Texas and Silicon Valley teams with Shanghai head office
2. Business model: low margins or higher-margin IP
3. No-asset business, how to retain people without increasing salary, e.g. in Taiwan, help with mortgage to buy a house
Leveraging people's knowledge
[Annalee]
In China and India, wages are rising quickly, people crowding into Shanghai and Bangalore
Salaries between China and India and Silicon Valley could be at the same level in 10 years
How to maintain loyalty?
Wayne: Have to maintain distinctive IP, so customers come back
Henri: Formerly life, bayesian statistics
Partnership is the same, it's conditioned
Game: Diplomacy
e.g. want a dominant platform for Internet services, would make sense for Motorola and Nokia to work together, yet still compete on other parts
Win-win game, but the wins change
Haven't been successful, don't think IPR can lock
Always pieces needed, e.g. content
Collaborating with Yahoo, but doesn't seem like collaborating
Anssi: Industrial services, trust is important
Keep trust by maintaining promises
Have been successful in Finland, where you don't always need paper, handshake is good
AnnaLee: Taiwanese could do things on a handshake, but a lawyer then says spent hundreds of hours working on that
[Questions]
Device convergence, yet some fundamental changes. Convergence trends?
Convergence to a wireless grid: wireless access that is transparent, but WiMax, Wifi, proximity radio ...

Abstract level, there is convergence to wireless; but at the lower level, it's not converged, it's heterogeneous, with a layer that allows us to do this
Converged surface is an artifact

Cross-converence in multi-functionality

Individual music players
Don't see device convergence

Software convergence: never see this
Handling spin-offs
Henri: one of interests, what are different technology transfer modes
Core technology is a technology transfer no-brainer: protocol map, and it pops out
New innovation: how to sell it to businesses that don't understand it
Want people with an entrepreneurial mindset

In Silicon Valley, want first year as angel, second year to sell initially, and third year with a distribution model
Starts with assumption of spin-offs, works in Silicon Valley, okay in China, and it's difficult in Finland
Yes, encourage this, not for everything, but it should be different technology transfer from core

Wayne: starting businesses in long distance

Everyone can come back, but the head

Henri: when you go out, you go out, and don't have a safe haven
Wayne: people go out, and come back as customers
Anssi: more trouble in attracting talent, want to keep them

Understand that from a global perspective, retaining talent in China is an issue
Similar, setting up; dissimilar is the virtuoso teams
Wayne: Any service needs to be replicable, scalable, high-value
Henri: Why should they?

Renewing Nokia to become biotech, doesn't leverage history of machines sending bits
Vision: merging physical and digital world

Anssi: Binding is challenges, they're all about people and relationships
AnnaLee: they're all customer-oriented, which isn't what you would have seen in manufacturing businesses 30 years ago
Henri: variation, not opportunity costs

Did a chip for Intel
Can't afford to do different for countries, China, India
Have IP protection
This work is licensed under a
Creative Commons Attribution-NonCommercial-ShareAlike 4.0 International License